"Without music, life would be a mistake" - Friedrich Nietzsche


Conceived on new years eve, I listened to Beethoven and the Russian giants while in utero (thanks mom!) and was subsequently born in New Jersey on September 26, 1951. An otherwise quiet day on the planet - I've checked. I wrote my first composition on piano at four and listened to short wave radio for hours and hours. And hours (total aspie). Watched Boing Boing & Betty Boop cartoons. Sputnik. Carl Stalling & Raymond Scott. Fantasia. Maps.
Initially a guitarist, my first guitar had a crank on the side and played "Home On The Range". I always preferred cranking it backwards. Later a cousin who toured with the Don Cossack Dance Troupe gave me a seven string guitar from East Germany. This led to some interesting music as at the time I didn't even know how to tune a SIX string guitar.
Stravinsky's Rite of Spring. Scriabin's Prometheus. Edgar Allan Poe & science fiction. Les Paul. The Ventures. The Theremin. Salvador Dali. Motown & Stax. The Beatles. Bought a Gibson SG. My Slavic grandmother was terrified that I would subsequently 'ruin' my life by becoming a gypsy troubadour. No such luck.
"I'm addicted to music... " - Miles Davis

Tape recorders - I discovered that the world could be captured and manipulated sonically. Jimi Hendrix. The beat poets. Bought a motorcycle. Moved to Oregon & went to university. The sixties. Volume & effect. The seventies. Miles Davis & jazz. John Fahey & Robbie Basho. Began writing original compositions for guitar & improvising ragas. Ingmar Bergman & Jean Cocteau. Max Ernst, Giorgio de Chirico & Wassily Kandinsky. Pablo Neruda.
"I do not write experimental music. My experimenting is done before I write the music. Afterward it is the listener who must experiment." - Edgard Varese
After graduating, I spent a few years as a recluse in an abandoned 19th century house surrounded by cattle bones, plow discs, pieces of wood and glass and other sonic objects suspended from the ceiling, running 20 foot tape loops on multiple recorders (didn't know about Fripp yet), circuit bending sound processors out of discarded electronics, painting and building kinetic sculptures. Then I heard the music of Edgard Varese and that changed the way I heard everything. I began writing music based on the holistic world of sound.
"Music is the path of revelation" - Alexander Scriabin

I emerged to front a number of ensembles playing original and improvisational music.

"Que la musique sonne" - Edgard Varese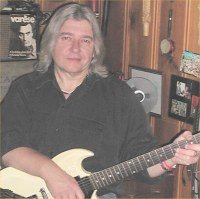 Got a job. Fell in love, got married (in a bakery) and raised a family. Bought a bigger motorcycle. Bought a sampler, a portable recorder (which I took with me EVERYWHERE) and set up a studio. K7 culture & mailart. I composed for film, video, graphics, dance, theatre, literature and poetry. I set up my own label, M&M Music, and issued over 25 independent releases including collaborations with cyberpunk writer and rocker John Shirley, German electronic music pioneer Conrad Schnitzler, Canadian text/sound composer and performer Richard Truhlar, Australian sound artist Rik Rue, the Schreck electroacoustic Ensemble, poets David Memmott and Mel Buffington, the garage band Leather Smile, and my wife, writer and poet Misha Nogha. My own work was featured by Underwhich Audiographics, Whole Earth, Insane Music, Camera Obscura, Generations Unlimited, Harvestworks and Realization Recordings.
Bought a farm. Horses. Bought a pc. The internet. Began writing digital music - although I'm still analog at heart. Released over 100 tracks on mp3 to the planet. Began a new period of collaborations including abstract sonicians Richard Dunlap and Johann Meier, world music vocalist Pandia, electronic composer Ooy, multi-instrumentalist David Farewell, and of course Misha. recent CDs released on the echOmusic, Howski Industries, and Small Doses labels. always more in the oven.
My muses are the invisible and the resonant worlds of sound.

"Michael Chocholak is a sound shaman. His music transforms you, carries you away to other realities, other dimensions and other states of consciousness. If you are looking for a Bardo preview, this is the soundtrack." - Misha Nogha.

My current release is Behind Doors of Water with Ole Christensen, Steve Cerio, Terje Dragseth, mixed by Jan-Morten Iversen, mastered by Jos Smolders.