Back to NEOFS Home
Folklore Activities
Second Saturday Contra Dance
First Friday Concerts
Tuesday Night Dancing
---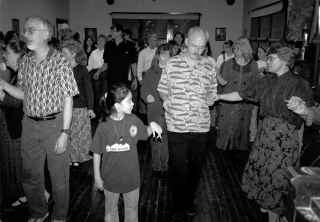 An evening of traditional dance and live music for all. Expect a variety of called (and some uncalled) dances including squares, contras and waltzes. The dances, including some traditional ones that go back over two hundred years, are simple enough for anyone to do with just the few instructions given by the caller before each dance.
Single people, couples and families all come to these dances. Although most of the dances done involve a partner, you don't need to bring your own. In fact, it is traditional to "mix it up" a little by asking different people to dance throughout the evening. Some dances (mixers) will even help this along by having dancers change partners during the dance.
This is a family-friendly dance, so children are welcome. Most children 10 or 12 can fully participate in the dancing, but younger ones might have some trouble when the dance calls for them to dance with someone other than their parent or older sibling partner. We currently have no child-care available at the dance, so parents should make arrangements to be sure non-dancing children are well supervised.
The dances can get a little vigorous so dress comfortably, expecting to get warm. Non-marking, soft-soled, comfortable shoes are ideal for this kind of dancing.
2nd Saturday Monthly, Sept. through June
The Olde Meeting House, 7:30 PM Lesson - 8:00 PM Dance
Cost: $5 General Public, $3 NEOFS Members, Children under 12 free.
Contact: David and Carla Arnold (541) 663-0776
---
Monthly concerts featuring a selection of the many talented performers within and around the Grande Ronde Valley. A chance to sip some coffee, nibble on snacks, and listen to great music. Check our First Friday Concerts page to see who's performing at the next one.
First Friday of the month from October through June (check calendar)
Cost: normally $4 for the public, $2 for society members (by sometimes varies by performer)
Contact: Carla Arnold (541) 663-0776
---
Folk dancing occurs regularly on Tuesday evenings. We regularly cover Irish Set, Contra, English Country and Balkan/International dance styles throughout the month, with occasional special evenings devoted to other dance styles.
First and Third Tuesdays: Irish Set Dance/Contra Dance
Lively dancing to great Irish music is the feature of Irish Set dancing. Irish sets are descended from French quadrilles brought to Ireland in the early 1800s and have developed a characteristic Irish flavor over the years. Not to be mistaken for for Irish "step" dancing (familiar to viewers of Riverdance,) "set" dancing uses easy, low to the ground footwork that anyone can pick up in a single evening. The music of jigs, reels, hornpipes and slides can run towards the fast side of dance tempos, making the dancing a little aerobic as well as great fun.

Contra dances have been a popular American dance form since colonial times. Surviving till modern times mainly in the small towns of New England, these fun, energetic dances have spread over the last thirty years to all parts of the country, and even worldwide. Usually done in long lines, with couples standing opposite each other, these dances feature interaction with every person in the line as well as your partner.
Second Tuesdays: English Country Dance
Elegance, grace, style, words that epitomize this dance style originating in the country towns and estates of 17th and 18th century England. Usually know for it's smooth and sweeping movements, English Country dance occasionally diverges from refined grace into rambunctious playfulness. The music is a very important part of this dance tradition. Many of these dances are done to music composed specifically for a single dance, with musical phrasing and the dancers movements intimately tied.
Fourth Tuesdays: Balkan/International Dance
A wide range of cultures are represented in this evening's dance menu. Our repertoire includes Northern and Eastern European, French-Canadian and Israeli dances, but the focus on this night is on the traditional line and circle dances from the Balkan peninsula. The unusual rhythms and harmonies of Macedonian, Bulgarian, Romanian folk tunes accompany dances ranging from easy walking steps to complicated sequences of hops, lifts, slides and stomps.
Special Occasions: Occasionally we will alter our regular schedule to accommodate a special workshop of some other kind of dance. We have done special waltz evenings, Cajun dancing on Mardi Gras, as well as Scandinavian, Swing and Salsa workshops. We are limited only by our own interests and finding someone willing to teach us. These special sessions are generally publicized only via word of mouth and on the folklore society e-mail list. Give us your e-mail address if you want to find out about these special dance evenings.
Newcomers are always welcome at all Tuesday night dance sessions. We generally do dances accommodating a range of abilities, so no matter what your dancing skill level is, there will be something you can participate in. When we do couple dances we customarily change partners throughout the evening. This allows everyone to participate, whether they came with a partner or not. This also allows those newer to this kind of dancing to learn more quickly, by being able to dance with more experienced partners.

The atmosphere is pretty informal. We always have time to chat and occassionally snack a little on participant provided finger food during breaks. Please come join us.
Tuesdays, year round (except some National holidays)
The Olde Meeting House, 7:30-9:00 PM
Cost: free (donations for use of the Olde Meetinghouse are gratefully accepted)
Contact: Mark and Dianne Lewis (541) 962-9355
---
Back to NEOFS Home